Are you getting this error when trying to install reporting?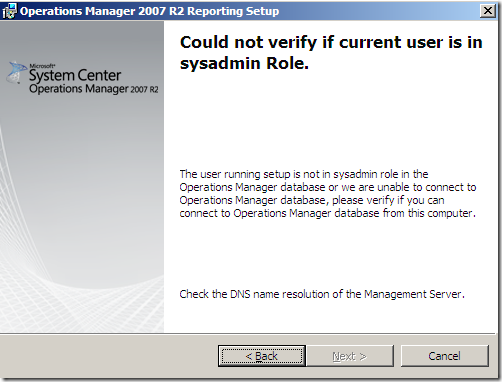 Here are the steps to resolve it.
1.
Check to User Permissions.
-

Verify the user you are running the installer as is a member of the Operations Manager Administrators.
- Verify the user has sysadmin access to the database in SQL.

2.
Check the SPN of the SDK Service.
- http://wchomak.spaces.live.com/blog/cns!F56EFE25599555EC!824.entry?sa=646856610
- http://blogs.technet.com/jonathanalmquist/archive/2008/08/14/operations-manager-2007-spn-s.aspx
- http://blogs.technet.com/kevinholman/archive/2007/12/13/system-center-operations-manager-sdk-service-failed-to-register-an-spn.aspx

3.
Check the Operations Manager database.
- Go into SQL Enterprise Management Studio
- Expand Databases, OperationsManager, and Tables
- Right click on MT_ManagementGroup
- Click Open Table if you are using SQL Server 2005 or click Edit Top 200 Rows if you are using SQL Server 2008.
- Look at the Value in column SQLServerName_6B1D1BE8_EBB4_B425_08DC_2385C5930B04
- This should be the name of your operations manager database server. (If you ever moved your operations manager database to a new SQL server there is a chance that this step got missed.